By Emma Kelly
My niece, Charliee Sue is 2 years old and has Down's Syndrome. She and my sister live locally to the Café on the Corner in St Alban's. It's a warm and welcoming place where we not only go to have great food but through our visits, we've learned more about Camphill Village Trust and the wonderful work that you do.
Our connection with Charliee Sue and Down's Syndrome meant the learning and employment opportunities which the Café and the charity provide to adults with learning disabilities felt relevant to us and close to our hearts. So, we decided we'd like to offer our support in any way that we could.
Putting our best foot forward
I'm a keen walker and live in the Cotswold area, so decided to combine my love for the outdoors with a way to raise money for Camphill Village Trust Café on the Corner in St Albans.
The Cotswold Way is 104 miles of rather hilly and very beautiful public footpath, so my sister and I decided to walk it all in 5 days, averaging around 20 miles each day.
In order to prepare we both completed a lot of training walks in our local area. As we don't live near each other and both have children and careers it was difficult to train together, and neither of us managed to complete many walks over 15 miles.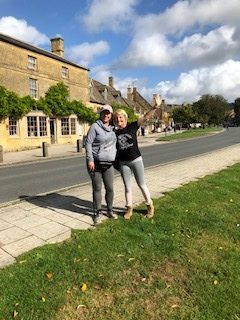 The walk itself was one of the best things we've ever done, even though it rained every single day! The main issue with this was it made the hill walking especially difficult as we were slipping and sliding in the mud.
However, the scenery was stunning, and it's been many years since my sister, and I were able to spend that much time together.
We motivated each other, we laughed, we snacked, we sang and we danced our way through it, and the support we received through friends and family via social media was incredible.
We did it!
We ended up raising £1450.00. Our target was £1000 so this was amazing!
Once we finished we felt elated and exhausted! We went our separate ways after a big hug and agreed we were both ready for a long, hot bath! It had been my birthday whilst we'd been away so I went home to celebrate with my husband and two girls.
The Cotswold Way: Gallery