The coronavirus pandemic has touched us all. Whether you're a frontline worker who has put in long hours to keep others safe, or you've had to cope with the loneliness of furlough or shielding, or most especially if you are enduring the grief of losing a loved one before their time – we've all faced challenging times.
Now, as we move towards the next stage of life after lockdown, the economic impact of coronavirus is becoming clear. With a recession looming, and so many fundraising events and activities cancelled and postponed, charities like Camphill Village Trust are facing a difficult time ahead.
As we work to reopen our communities and welcome people back into our cafés, shops and workshops, we need the generosity of our friends more than ever.
Our community members and support workers are a fantastic
team, and together we're getting through this
As our communities went into lockdown, workshop staff packed up paints and paper, craft materials and even looms, and delivered them to people's homes.
Staff rotas were painstakingly rearranged so that community members could enjoy craft activities in their own homes. supported by the staff member who knew them best.
We developed new online activities and became experts at using 'Zoom'.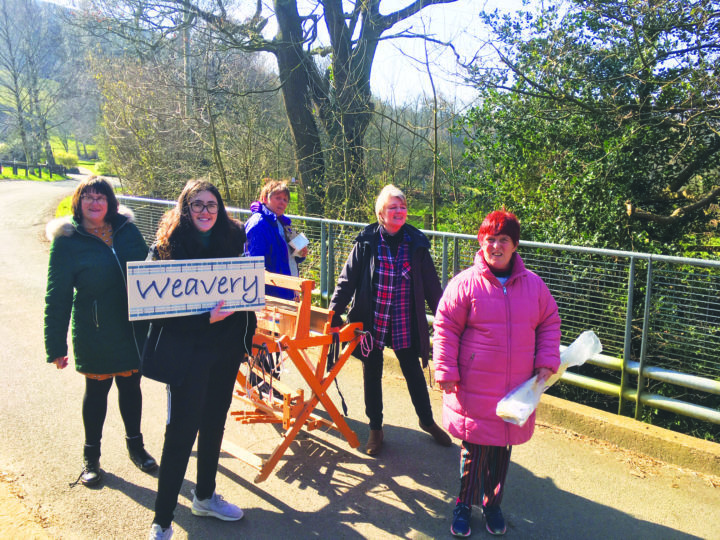 And our supporters helped to make it all possible – their generous donations ensuring that we have funds available for new and changing activities.
Covid-19 has brought so much grief and loss. But the pandemic has reminded us of what we already knew – that when we work together, we can create something special. We'd like to share with you some of our achievements this year.
When friends work together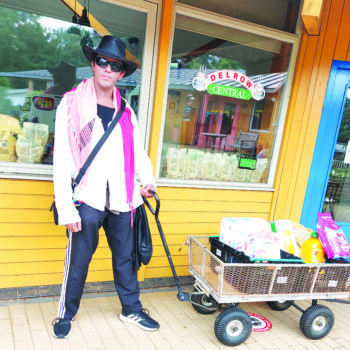 Royston is a member of Delrow Community, and Neil is a contractor whose work had come to a standstill during lockdown. Both played a vital part in keeping the community running smoothly.
'I had a lot of free time and wanted to be helpful,' says Neil.
'Every Thursday morning I'd pick up a huge shopping list from Delrow, then spend the days working my way through the queues in the shops of Watford. I went down supermarket aisles I'd never seen before, hunting down ladies' face creams and shampoo!'
Meanwhile, Royston chalked up the distance around Delrow Community, delivering shopping to all the individual houses.
'I couldn't go to my normal workshops, so it gave me a great sense of purpose doing something to help my community, explains Royston. 'It was good exercise and gave me a chance to say hello to everyone, from a distance!'
and we keep busy and active
'I've been going for walks by the river, and doing lots of art and craft at home,' says Mark, who lives at Croft Community. 'I made a beehive out of cardboard and tissue paper for the café when it reopens.'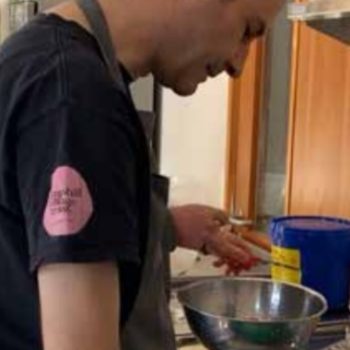 Mark usually works four days a week at Kingfisher Café in Malton. He's hoping the café will reopen soon. 'I've missed working on the till, and chatting to customers,' he explains. Meanwhile he's been keeping his cooking skills up to date at home.
'Every afternoon we have a cooking workshop at home with staff supporting, and then usually we eat what we've made for dinner.'
'Today I'm making kedgeree with smoked salmon, single cream and parsley for 10 people!'
Although Mark's keeping busy, he admits it's been a challenging time: 'It's hard in a lot of ways. We've found it difficult not mixing with the other houses, and I've missed going out on the bus.'
Sharing, supporting and keeping each other safe, we can find the positives
Our newly refurbished Art Studio at St Albans had only reopened about a month before the pandemic took hold. Art Studio staff devised a rota, giving people who had been attending the studio one-to-one support with their art activities at home.
'I've really enjoyed the one-to-one support, it's been great,' says Liz. 'I've been doing lots of drawing and painting, and watching videos about animation, to see how animators capture different facial expressions.'
Plans for reopening the Art Studio are still taking shape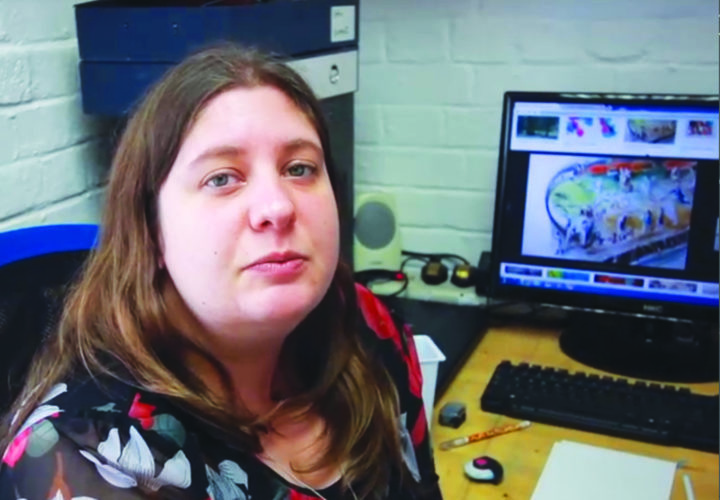 'We'll have small groups, so that people can keep their distance. And the rules about hand washing and cleaning the tables will be really strict,' says Liz.
'It's lucky we've got the extra space in the new extension now! It will be good to go back because I'll be able to finish some of the pieces I've been working on.
and face the future together
'Coronavirus isn't going away. We've got to find new ways of working, so we're ready whatever the future holds,' says Kat.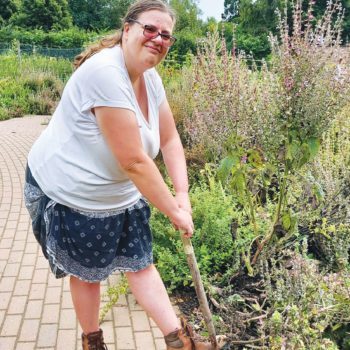 As local shops began to re-open, staff at Delrow realised that community members needed to become familiar with the new social norms which had developed during lockdown.
'We've started holding a Friday market for the community,' explains Kat. 'We sell garden produce, home made masks and things like that. Everyone who comes is encouraged to wear a mask and make sure they keep two metres apart. It's helping people get used to how the world has changed.'
Kat and other staff have planned carefully, putting household groups and people who live outside Delrow Community in separate 'bubbles' so that some outdoor workshops have been able to resume.
Natalie has been attending day opportunities at Delrow Community every week since 2003. 'It was lovely going back this week,' she says. 'It was my first visit since March. I saw that the herbs which I planted last year have all come out.'
We're working hard to reopen our communities safely. In many cases, this will mean smaller groups and more outdoor activities. It's also an opportunity to develop a new way of working – our online workshops have the potential to reach many more people with learning disabilities, outside our usual communities.
And it's thanks to our supporters that this is possible – your donations give us the flexibility to respond quickly to changing circumstances.
Donate Now