Regular readers might remember our 2016 fundraising appeal to refurbish Ashfield House, on the edge of  Stourbridge. We'd like to update you on what you've helped us achieve.
Ashfield House is home to a small group of people with complex support needs. With patience, consistency and kindness we've created a warm and supportive home, but we needed to improve the facilities to match the care we offer.
A place to relax
With the help of our supporters, we've created a second quiet lounge. This has become known as the 'therapy room' with calming light projections, bubble tubes, cosy furry blankets and cushions.
When people don't want to watch TV or socialise with housemates, it's the perfect place to relax.
Recently, Peter, who's had a family bereavement, and Val, who's recovering from a broken hip, have both spent time in the therapy room. 'We have somewhere just to spend quiet time, and that's so important when people need to de-stress,' says Registered Manager, Sharon.
Building for the future
What's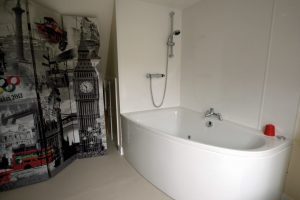 more, people can now choose between baths or showers thanks to the new bathroom. 'It's wonderful – for some people having a bath is so much more relaxing,' says Sharon
And we're delighted to say that your support has helped us create two more bedrooms in an annexe. Now we can welcome new people who need our individual person-centred care. With few other providers offering this kind of accommodation locally, these new facilities at Ashfield House will benefit adults with complex needs for many years to come.
Thanks to all our supporters who have helped to make this possible!