Camphill Village Trust St Albans Community has been recognised as 'outstanding' in responsiveness and overall rated 'Good' in Care Quality Commission (CQC) findings published recently.
St Albans Community provides domiciliary support to people who live in privately rented houses and flats, which are situated within a mile radius of the registered office and St. Albans town centre. People receive care based on a 'supported living' model to help them live as independently as possible and to provide them with the support they need to help meet their individual health and social care requirements.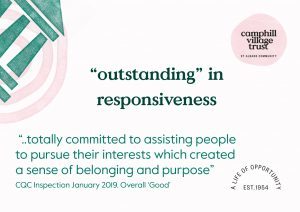 The report
Inspectors who visited St Albans found it to be 'good' overall and outstanding in 'responsive', judging it to be caring, safe, effective and well-led.
The inspection report said: "The registered manager and staff had taken an innovative and creative approach to providing both social activities within the community and also offering and supporting people with a range of work experiences. For example, 'The Café on the corner' is one such initiative in which people are supported to further develop their skills and knowledge in the catering profession."
"People who lived within Camphill Village Trust St Albans were encouraged and supported to embark on work experience within both the catering and cleaning professions. We were told that as a result of the work experience gained within the Camphill community, people had secured paid employment working as both cleaners and kitchen assistants. One person who had worked in the café, gained the necessary skills in customer service to successfully gain employment at a local cinema."
A relative added:
"Living at Camphill has definitely improved (name's) life. They are able to work on their independence and go out and join other people in the Camphill community. There is an amazing range of opportunities for (name) to take part in and it is a true reflection of what community living should be about."
Read the full report here