In celebration of Camphill Village Trust's 65th anniversary, Stourbridge General Manager, Dean Barnshaw and IT Manager, Scott Paterson have decided to cycle the 65 miles (exactly) from Norton Road in the Stourbridge community to Taurus Crafts, Forest of Dean on Sunday 1st November.
Planned for earlier this year but sadly delayed due to the current situation, both are undeterred and remain committed to the mammoth task which should take about 7-8hrs with breaks.
Taking on the challenge
Dean who joined the Trust in November 2016 as Head of Service for Shared Lives, said 'I like to set myself a challenge each year and regardless of what has been going of late, it was always the plan to make this happen, but as safely as possible and adhering to COVID protocols, hence why there is now only two of us setting out. Over the last few years I have boxed in a couple of white-collar matches, ran a 20 mile, 200 obstacles mud-run and competed in several Olympic triathlons, but having developed COVID belly over the last few months and cycling all day, will undoubtedly push me to my limits. Plus the route isn't as downhill as I would like it to be, unfortunately, so I might just have to hold on to Scott's coat-tails some of the way.
I'm also not averse to suffering a few aches and pain on behalf of the Trust, as myself, Scott, Kate Morgan from Shared Lives and Ingo from Grange Village ran a 34-mile ultra-marathon relay race a couple of years back to celebrate the launch of the Shared Lives scheme, but I am concerned as to how my bum will feel at the end of this event. Fingers crossed that my training goes well over the coming weeks, as I'm only up to 35 miles at present and I keep getting a flat tyre.
Both myself and Scott really would appreciate any sponsorship to support us with this event and we hope to raise at least £650.  I am very proud to work for the Trust and can honestly say these last four years have been some of the best times of my social work career. I truly believe in what we do as an organisation and the funds we raise will go towards creating further opportunities for the people we support and ensuring the quality of life that everyone richly deserves.'
Training goes 'virtual'
I.T Manager Scott has been keeping up with some 'virtual' training throughout lockdown, using a smart trainer set up at home alongside the online, interactive training and racing platform Zwift.
'He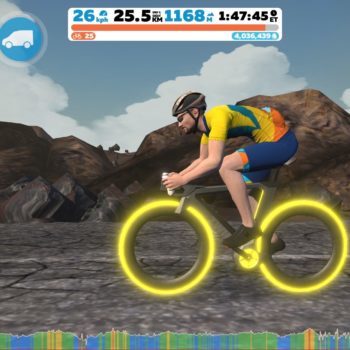 re's a picture of my Zwift avatar after I had just completed the 50,000m of climbing to be awarded the really cool 'Tron bike'. This was the result of many hours of riding in the virtual world (quite appropriate for an IT manager eh?)', says Scott.
We wish both Dean and Scott well with their training over the coming months and we will be updating on their progress before the big day.
To show your support for Dean and Scott you can donate via their JustGiving Page, click here.