At the virtual Annual Awards Ceremony, recently hosted by Shared Lives Plus (membership body for all shared living organisations in the UK),  Camphill Village Trust were nominated for the category of 'Most Innovative Scheme', in recognition for its achievements in the recruitment of BAME (Black, Asian and Minority Ethnic) carers to its expanding service on behalf of Dudley Council across the Black Country.
Kate Morgan, Registered Manager of the scheme, who won Shared Lives Champion of the Year at last year's event, said; 'This acknowledgment validates the team's hard work throughout this last year. It's very important to us that our service reflects the diversity of all communities across the region.'
'The recruitment of Shared Lives carers from different backgrounds, enables the people we support to be carefully matched based not only on their wants and wishes, but also cultural needs wherever possible. The scheme has coped admirably throughout the pandemic, all thanks to the creativity and dedication of our carers, who provide a safe family environment to all involved.'
What is Shared Lives?
Shared Lives is still a relatively unknown model of care that holds similarities to fostering, where specially trained Carers open up their home and support adults with additional/complex needs to lead as independent life as possible, whilst staying connected to the local community. Currently, there are approximately 14,000 people being supported throughout the UK in this way.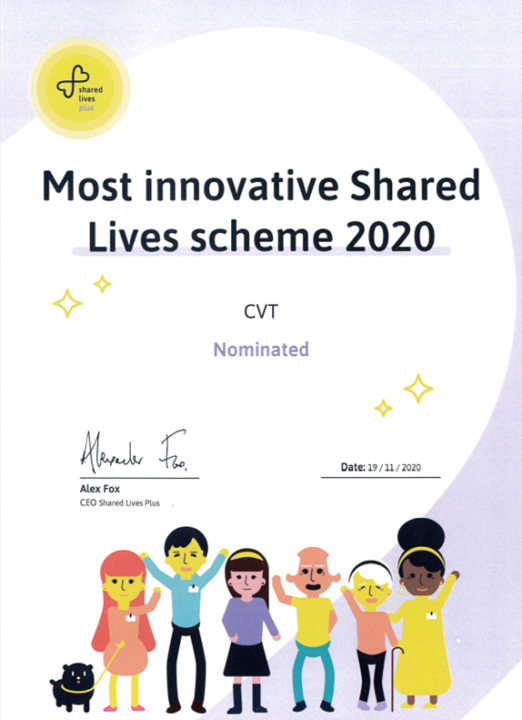 Could you be a Shared Lives carer?
Over the coming months, Shared Lives schemes up and down the country will be promoting this rewarding career as part of a national recruitment campaign in response to the Covid-19 pandemic. The role of a Shared Lives Carer is for anyone with the right values and commitment, and of course, a spare bedroom.  You can be paid up to £570+ per week (tax free), depending on the level of support you provide.
To find out more information about becoming a Shared Lives carer with the Camphill Village Trust scheme, then please call on 01384 441505 or take a look here.
Follow us on Twitter: @CVTSharedLives or Facebook: @cvtsharedlives
Or to find out about a scheme in your local area, then please go to: http://www.sharedlivesplus.org.uk/find-your-local-scheme
New scheme proving successful in recruiting BAME carers across the Black Country