Trust supporter Sean Riley turns 50 years old in April and has picked one heck of a challenge to see in the milestone. Using a Concept2 rowing machine in his home, Sean will be rowing 50 kilometres every day for 50 days ending on his 50th birthday. That's a total of 2,500 km, which means Sean will be rowing the length of almost 24,000 football pitches!!
Sean said: 'This challenge will significantly test my endurance and resilience but spare a thought for those with learning disabilities and their families and the ongoing endurance and resilience that they demonstrate day after day.  I'm passionate about helping so please support me on this challenge in any way that you feel appropriate.'
Sean is a  is a mobilised reserve Army officer assigned to the Joint Military Command North East at Catterick Garrison. He is also liaison officer to the NHS where he is providing planning support, coaching and mentoring, team development and resilience training. Sean also works as a work psychologist, running his own business.
Staying motivated with a little help
I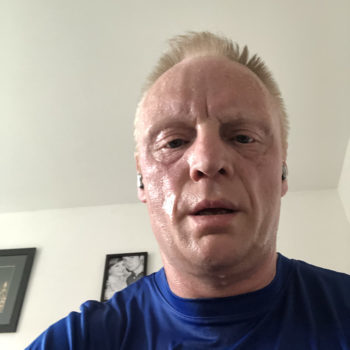 t can often be more difficult to stay motivated on big challenges of this nature when you aren't able to leave the house – looking at the same four walls for 2,500 km may get a little boring. So, to help keep Sean motivated community members from around the Trust have planned some surprises along the way.
Sean said: 'I will have to be rowing for about four to five hours a day, probably nearer five if I'm going to keep a steady pace and not be too tired to carry on the next day. I'll have to really think about my diet too so I've got plenty of energy. And I'll definitely have a playlist to keep me going – I'm a big music fan so I plan to go right back through the archives.'
Sean is in the training stage but we will keep you updated with how Sean is getting on through regular vlogs and news posts. He believes the 50,50,50 challenge will be a world record, and is in touch with Guinness World Records.
If you would like to support Sean in his challenge for the Trust you can donate via his Just Giving page here: www.justgiving.com/fundraising/sean-riley6
Good luck Sean and thank you!