In the spotlight this time, we're delighted to feature Claire. She has created some unique lino-print designs - some of which she's been working on for months.
'I did this drawing of my mum's budgie before lockdown,' says Claire. 'Then I put it on the lino block during lockdown, and finished it when we came back to the Art Studio.'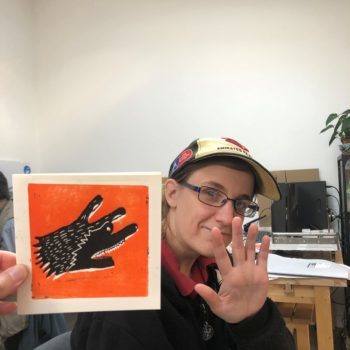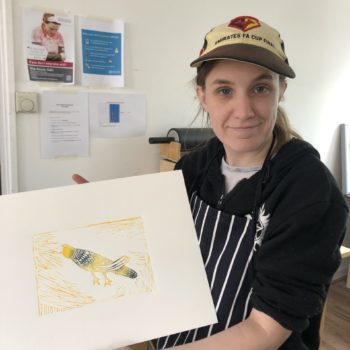 Claire's glad to be back at the Art Studio two afternoons a week. 'The best thing about coming here is that it helps my anxiety,' she says. 'It's like therapy for me.
'Gilbert the Budgie is now on display in our Café on the Corner at St Albans, and Claire is busy coming up with more designs - like these unique handprint animals.
Wash your hands!
Appropriately these days, Claire's top tip for successful lino printing is keeping your hands clean. 'If you've got ink on your fingers, it can ruin the whole thing!' she laughs.