As part of our 65th-anniversary commitment to creating 65 new places, we've converted a house just outside our Delrow Community in Watford to five beautiful self-contained flats.
Marco is moving this month and is already planning the layout. 'I'm going to have a TV in my bedroom,' he says. 'And a table in the dining room, and photos of my family on the walls.'
Marco and Greg are the first two tenants, and they were delighted to show us round in this film.
A place of your own
'I was overjoyed when I found out I was moving in,' says Greg. 'I like to socialise but I need to have my own space too.'
Marco agrees: 'It's nice to have my own front door,' he says.
Marco and Greg will be joined by three new neighbours in the coming months.
The best of both worlds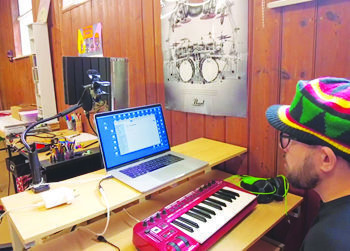 'My support workers from Delrow come in to help me cook and go shopping with me,' says Greg. 'So I don't feel lonely, but I can be more independent.'
At the same time, Greg and everyone living at Little Delrow will benefit from the activities available a stone's throw away. And Greg's new flat means he will also have space to enjoy his music and songwriting.
Congratulations on your new home Marco and Greg, we hope you create some very happy memories there.