The start of the COVID-19 pandemic meant all our lives changed. We could no longer do the things we loved, like meeting with friends and family or carry on with our daily routines. So, to help people stay connected and be able to continue taking part in meaningful activities we launched Opportunity TV. 
At Camphill Village Trust our main priority is to keep the people we support and our colleagues safe, but we were (and still are) very aware of the feelings of loneliness and isolation that come with adapting to this new way of life. And this is where Opportunity TV came in. The virtual sessions provide an opportunity for people to learn new skills, share their passions and talk to people across all our communities – and most importantly have fun!
We've been running daily Zoom sessions for our community members since March last year, with sessions on mental health and wellbeing, cooking, culture, music and much more.
There's more to come!
We're proud to announce that from the 18th January, Opportunity TV will be open to everyone, whether you are supported by the Trust or not, and all sessions are free of charge
Therefore, a new timetable of stimulating activities is now available and sessions will run twice daily, Monday to Thursday at 10 am and 3 pm and on a Friday at 10 am and 2 pm.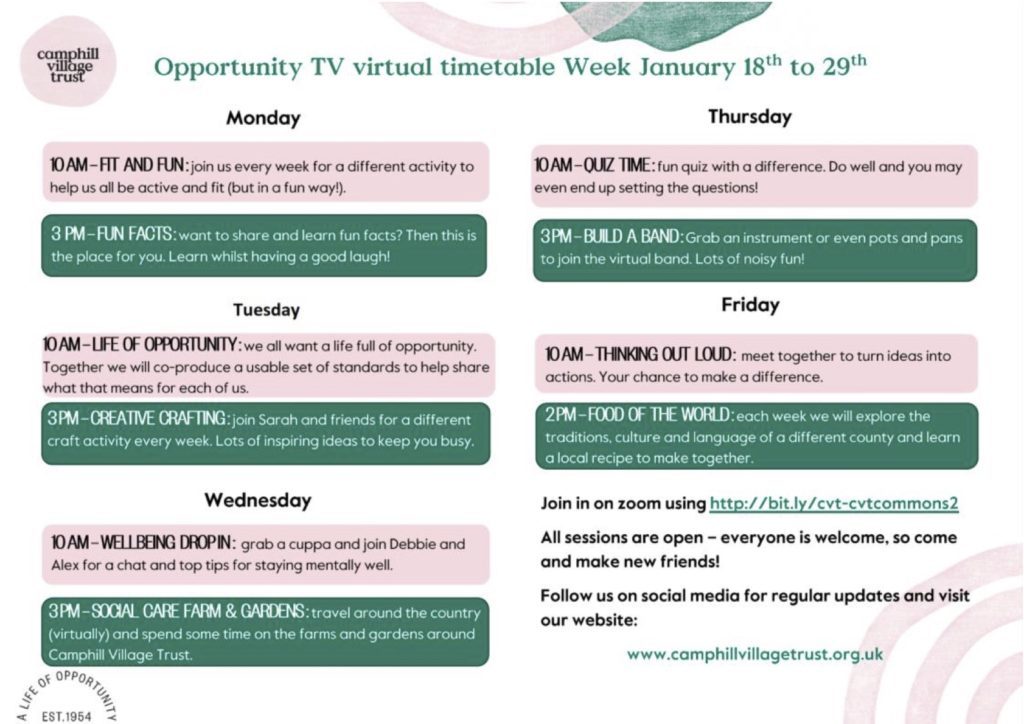 Phil, Co-production Manager told us, 'We're excited to share Opportunity TV with the wider world and our friends across the adult social care sector. It's made a huge difference to people supported across the charity and to be able to share this positive platform at such a difficult time for everyone is amazing. Sessions are co-produced with staff and people we support sharing their passions, skills and areas of interest. They're also interactive which keeps everyone on their toes!'
Adam is one of the people supported at Botton Village, he's been participating in the sessions since March last year! 'I really enjoyed the fun sessions especially when Redcar Fire Station showed us how to keep safe, the food around the world cooking sessions and meeting Shaun Webster who was amazing and knows how to get people with learning disabilities doing things.  All the sessions were fantastic though and really good.'
Not only has Adam been joining in with the sessions, but he's also started hosting them too!
'I found learning how to host and co-host the scariest with so many people on the screens to start with but now I love doing this.  It has kept me going as I have been stuck in my home for ages and have been able to join in even when I was on holiday last year.  I have also got a new job with Community Catalyst and host and co-host lots of events in Botton Village too'.
Our sessions aim to be:
Fun
Co-produced
Informative
Entertaining
Interactive
We'd love you to join us
If you would like to join us for a session, or all sessions, simply create a Zoom account and use this link to dial in: http://bit.ly/cvt-cvtcommons2  
To watch previous sessions of Opportunity TV visit our website: Click Here
If you would be interested in helping run a session, please get in touch with Phil Gibson at philip.gibson@cvt.org.uk. we would love to hear from you.
The schedule will be updated each week, so make sure to keep an eye on our social media channels for regular updates.
Don't forget Monday to Thursday at 10 am and 3 pm and Friday at 10 am and 2 pm – we can't wait to welcome you!