The immediate response to coronavirus is only the start. People across the country know that charities like ours are #NeverMoreNeeded now, and for the foreseeable future.
We're backing the #NeverMoreNeeded campaign because, like many other charities, we know the work we do helps change people's lives, and our community, for the better.
While we've been helping respond to coronavirus and keep the people we support safe, we've had little chance to fundraise or to generate other income. At the same time, there has been much greater demand for the work we do. We want to carry on making a positive different because we're #NeverMoreNeeded than now.
As a country, what we do and how we allocate resources as we move, hopefully, to recovery will only be effective if we include the people, problems and places that are often overlooked. The work charities do – and our relationships with communities – shows we must strive to meet everyone's needs and rights.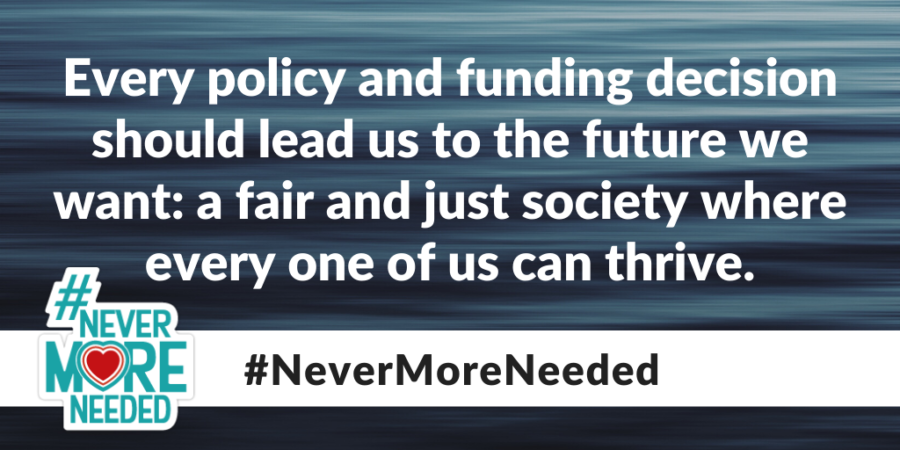 Charities and voluntary organisations are #NeverMoreNeeded across the country to help tackle coronavirus
They are providing food, medicines and essential support to isolated and vulnerable people.Supporting children and adults with disabilities, long-term conditions and serious illnesses, along with their families.
Working to look after people affected by difficult issues such as mental ill-health, homelessness, debt, drug and alcohol misuse, domestic abuse and exploitation.
Keeping people safe and making sure no-one is forgotten At the same time, due to the massive impact of the coronavirus outbreak, charities and voluntary organisations have been hit by.
How charities are struggling due to coronavirus:
Sudden increases in demand for what they do, as part of the response to coronavirus.
Loss of fundraising income as events and activities have been cancelled – from coffee mornings to the London Marathon, and everything in between.
Loss of income from charity shops, hiring our premises and providing services due to social distancing.
Regular donors cancelling their giving because they have had their own income cut, through furlough or redundancy.
The #NeverMoreNeeded campaign is asking everyone to show that they understand the importance of having thriving and sustainable charities and voluntary organisations.
We're calling on the government to create an Emergency Support Fund. Click here: https://nmn.org.uk to find out more, and learn how you can help.
Camphill Village Trust CEO Huw John, shares his thoughts in his latest blog post.
Camphill Village Trust is a national charity and social care provider – we are sector optimists.
We are also sector realists and understand that the end of lockdown will not be the end of our challenges. The inevitable additional pressure on funding, the build up of unmet needs and the erosion of people's support – physically, emotionally and financially – are going to be hard to tackle.
Has the pandemic finally forced the issue of a long-term vision and model for social care onto the Government's playlist? We've been here before.
The recognition of the need for stronger and joined up working with the NHS is welcomed, but a shot gun marriage that results in a clinically led model of social care is not the answer – the secret is in our name…social.
Like many charities and third sector organisations throughout this pandemic, Camphill Village Trust has been more than a contracted care provider – working with food banks, coproducing wellbeing support to those who use and provide support, and codeveloping virtual therapeutic and educational support programmes which are open to all….
If social care is to rebuild positively post COVID, it needs to be about more than the 'hourly rate' and social care contracts need to include community, connectivity and opportunities in their language and ambition. Let's not be afraid to talk about how funded and unfunded support should work in partnership.
Once again charities have demonstrated why they have been, and will be, never more needed – if we are real about developing relationships and resources that provide people with a life of opportunity.
That why we are supporting the #NeverMoreNeeded campaign.
Huw John 17.02.21