In a recent interview with Zara, a dedicated social care student, her passion for social work and commitment to making a difference in people's lives shone through. Zara's journey into social work was inspired by her innate desire to give back to the community and support those in need. Her work experience with the ambulance service made her realise that there are various ways to provide care and support, leading her to explore social work further. 
Zara's interest in serious case reviews involving children and adults was evident as she conducted extensive research and pursued a master's degree in social work. She emphasised the importance of making a true difference in people's lives, which she has experienced first-hand during her placement with Camphill Village Trust Stourbridge Community.  
Having previously worked with individuals with learning disabilities, Zara found that her placement with Shared Lives allowed her to reconnect with her past experiences and expand her skill set. While the focus of her university courses mainly revolved around children's services, her time at Shared Lives opened her eyes to the vast opportunities available in the adult sector. Zara's preference for working in a social care setting, compared to ambulance work, stems from the fulfilment she derives from face-to-face interactions and witnessing the positive progression in people's lives. 
Despite her initial apprehension to work for a charity Zara commended the well-run and consistent nature of the Trust offering her newfound confidence in working for a charitable entity. Zara expressed gratitude for her university's role in introducing her to the Trust, recognising the potential for future referrals and advice to colleagues and community members. 
Zara's time at Shared Lives has further reinforced her passion for learning disabilities social work. While her university courses primarily focused on children's services, Zara realised the immense potential for growth and intervention within the adult sector. She emphasised the importance of person-centered and humanistic approaches, acknowledging individuals as experts in their own lives and tailoring support accordingly.  
When asked about her interpretation of "A Life of Opportunity," Zara equated it to a life of fulfilment and meeting individuals' needs for an excellent quality of life. She lauded Shared Lives for its commitment to promoting independence, social interaction, and personal development. Zara recognized the valuable role of carers and coordinators, acknowledging their dedicated work in providing comfort, promoting skills, and building confidence. She emphasised the significant growth she has witnessed in the individuals she has worked with, acknowledging their full potential realized with the support of carers and coordinators. 
Zara's enthusiasm for her work was exemplified through an individual story she shared. She highlighted a remarkable transformation in an individual's communication skills and involvement in various activities. The individual's increased vocabulary, participation in sports, and creative pursuits showcased the positive impact of the care and support provided by the Shared Lives community.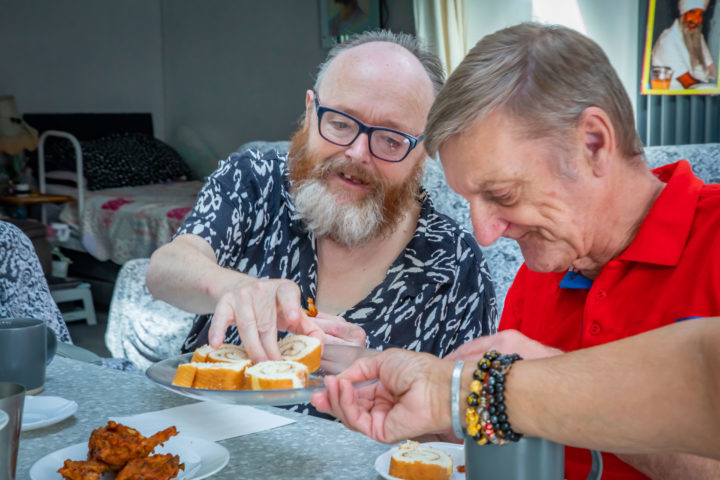 When asked about the public's awareness of shared lives, Zara expressed her belief that the general population lacks sufficient knowledge about this unique care approach. She shared her experience of conducting marketing campaigns in Wolverhampton, where Camphill Village Trust had recently taken over the contract. Zara found that very few people were aware of this service model. She emphasised the need for increased efforts to promote and market the service. 
Zara identifies both positives and negatives in the Shared Lives model compared to other forms of care. On the negative side, she highlighted the absence of an efficient system for managing documentation, which can be time-consuming and challenging. However, when discussing the positives, Zara's enthusiasm shone through. She emphasised the developmental opportunities for individuals supported, the comprehensive support provided to carers, and the extensive training programs offered. Zara believes that Shared Lives has the potential to make a significant positive impact on the lives of those involved. 
Zara addresses concerns regarding the lengthiness of the process for individuals interested in becoming part of the Shared Lives scheme. She noted that while the assessment and approval stages can take time, the process itself is not discouraging. Zara acknowledges that the lack of information from previous providers in Wolverhampton created difficulties, but overall, she emphasizes that the process is manageable and not a significant deterrent for potential carers. 
Zara wholeheartedly encourages individuals to pursue a career working at Camphill Village Trust Shared Lives. She emphasised the rewarding nature of the work, the professional growth she experienced, and the positive changes she witnessed in the lives of those she supported. Zara believes that Shared Lives offers a unique opportunity to make a difference and highlights the importance of looking forward to the positive aspects of working within this model of care. 
Zara also expressed optimism about the future of learning disability support. She believes that generational and social care changes will positively impact individuals with learning disabilities as there are tremendous opportunities for them to engage in meaningful activities and develop their skills within supportive communities. She stressed the importance of adopting a non-judgmental, non-discriminative, and non-oppressive approach to provide individuals with the opportunities they deserve. 
Reflecting on her time working at Camphill Village Trust Stourbridge Community, Zara mentioned the person-centred approach, the remarkable team support, and the invaluable lessons she has learned. She expressed gratitude for the welcoming and approachable team of coordinators and the supportive carers who shared their personal experiences with her, not to forget the significant skills she developed during her placement and recognised the positive impact Shared Lives has had on her professional growth.