Here at Camphill Village Trust, volunteers really do make a huge difference.
From those who give a couple of hours each week to volunteer to support adults with learning disabilities within our communities, right through to our international volunteers who stay for a year.
Alex and Alex volunteer with Camphill Village Trust's Botton community. They're here for a year and they've come to the UK from Canada and Austria respectively.
They chatted to us about volunteering and what it means to them.
Alex's story
Why did you decide to volunteer?
I chose to do a volunteer program for my gap year from university. I was stressed and extremely burnt out, so I chose to take a moment to reset. I didn't want to just work for a year in my same part-time job as a night shift cashier, I wanted to do something meaningful with my time away from school. I also wanted to gain some life and work experience, so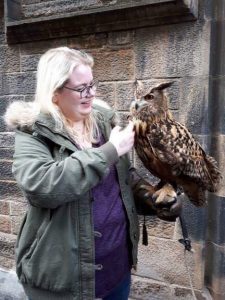 I chose a volunteer program that could place me in a perfect school/community to suit my needs and personality.
What stood out about Camphill Village Trust that made you want to volunteer with us?
When my volunteering organisation first told me about Botton and asked me if I was interested, I took time to research about Botton and Camphill Village Trust. When I read about the views they have on community-based support, that was something I became so thrilled and passionately determined to be a part of. Also, gaining experience in working with people with learning disabilities was exciting for me, as I am looking at working with somewhere in that field in the future.
What do you get out of it?
I get the chance to feel like I am making a difference in a community. To be able to contribute to something meaningful. I also get a chance to grow and change as a person, which is something I didn't realise I needed so much until I came here. I have learned so much from the residents, staff, and other volunteers here, and I can't imagine how my gap year would have been if I had been placed anywhere else.
What kind of things are you involved in?
I work primarily in the Woodwork Shop during the week, making toys that we send locally and internationally for small and large orders throughout the year. My first priority, of course, is the residents that I work with. Most of my time is spent in the sanding room, working on products and spending time with the residents, talking to them, singing to the radio, and just having a good laugh.
I also help at my home with tea time, serving the meals, and cleaning up. I also occasionally enjoy trying to cook, or baking treats. On weekends, we may be required to work shifts in the coffee bar. They are short shifts and I enjoy them very much.
Would you recommend volunteering with Camphill Village Trust?
If I was asked by someone who was considering doing a gap year abroad, I would encourage it 100%, and if Botton was an option for them, that would be an amazing opportunity for them. Botton is amazing. I have made lasting, unforgettable memories here with amazing people. I have made lifelong connections with some amazing people that I have worked with and gotten to know over the past months that I've been here, and I am absolutely thrilled. I have changed as a person so much since I've been here, which is not something I knew I needed so much, which is why I would encourage anyone in my situation to do a gap year program like this.
Alex's Story
Why did you decide to volunteer?
Well, first of all, I wanted to get some distance to my previous job and some time for myself, as I have been tremendously preoccupied with job and education in recent years.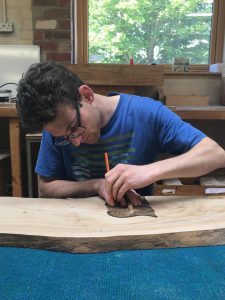 Moreover, I was craving for a completely new experience concerning work as well as another social environment.
I had wanderlust, hence I decided to volunteer, due to having a meaningful task embedded in a consolidated social community. I intended to immerse in a different culture and language. The decision to attempt social work and being surrounded by people with special needs hasn't been out of the blue. The path to this decision has been paved by a friend of mine who is working in social care.
What stood out about Camphill Village Trust that made you want to volunteer with us?
Botton Village offers a nice community, with structured workshops and shared living. Therefore it ́s the easiest to participate and immerse in such an outstanding community.  Furthermore, Botton is renowned as being the oldest Camphill community for adults, virtually the origin of the Camphill movement.
What do you get out of it?
As stated above, I could experience an entire change, socially, geographically as well as workwise. Also the encounter of fabulous people, that contributes quite a lot to their own personal development. The work with the residents unveils their difficulties in life, but on the contrary, you feel also gifted to encounter such an overwhelming cordiality, I have never faced before I came to Botton.
As a volunteer, you receive an insight into the life of people with learning disabilities and how much joy and vigour they can bring in our daily life.
What kind of things are you involved in?
Since I came to Botton I have always been in the wood workshop, recently I modified that slightly in order to gain some more experience and insight in another workshop. I have got the opportunity to work every Monday at the butchery. The assignment in the butchery is primarily to help the resident ́s in doing their work and to do some preparatory work in order to keep them occupied and happy.
That is quite similar in the wood workshop, however, on top of that, I am more incorporated in the whole production process as well as quality validation. One additional distinctive difference in comparison to the butchery is the fact that the resident ́s require more support on average.
What makes the wood workshop so special is its unique make-up. It is a very productive workplace, where people can utilise their skills and on the other hand, it can be perceived as a venue for vulnerable people who want to enjoy the company of the others and bring so much joy to the whole team.
Would you recommend volunteering with Camphill Village Trust?
It is great to volunteer with Camphill Village Trust. The application procedure is simple and you receive sufficient information about the village prior arrival. Everything is straightforward and whenever questions arise the people in charge are always receptive to the concerns and needs of the volunteers.
Also to mention is that Botton has got quite a few volunteers hence a volunteer is never alone, there are always some others. It ́s easy to get new friendships and to settle in quickly.