Meet our chief executive 
Sara Thakkar – C.E.O
Sara is a recognised senior leader. She has rich and diverse experiences within the public, private, enterprise and third sector. Her leadership roles have been grounded in the commitment to tackle injustice and equality and her approaches reflect an ability to work alongside people and communities to develop their roots; to bring a sense of identity, choice and belonging. Sara is equally passionate in her approach to build on individuals and communities wings; co-creating the art of the possible to make a real and lasting positive difference. She recognises that roots keep us grounded and wings give us flexibility and freedom.
She began her career in education and family support, working with families with complex needs within communities affected by significant disadvantage.  She has spent the last 20 years undertaking a number of CEO roles in community-focussed third sector organisations across the country.  She has extensive experience in providing high-quality care and support services, strategic communications and change management, new homes development and land management.
Sara brings a commercial head and a social heart to the Trust. Her business and finance qualifications support her approach to balancing fiscal oversight with clarity of purpose. She is a highly experienced non-executive having held a number of Board and Trustee roles throughout her career and has undertaken a number of governance advisory roles across a range of sectors. She is currently a Board member for a Housing Association and the Chair of a Business Enterprise Agency.
Directors
Annabel Arkless – Director of Fundraising and Marketing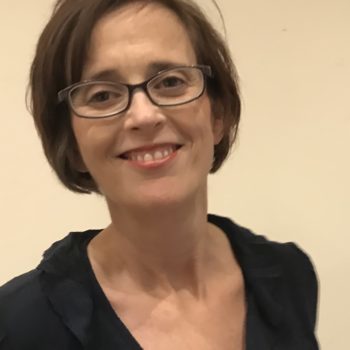 Annabel Arkless joined the charity in 2017, as the Trust's first Director of Fundraising & Marketing. Annabel leads the fundraising and marketing strategy for the organisation, in a role that is focused on maximising voluntary income to ensure the charity has a secure future.  Having established a marketing team and charity re-brand, Annabel is working on broadening the fundraising base for the charity.
Annabel has worked in the fundraising sector for over 25 years.  Having started working as a Regional Fundraiser for what was then Imperial Cancer Research Fund, Annabel has worked predominantly in the hospice movement and has led capital appeal campaigns and several fundraising teams.
Annabel moved to York to read for an MA at the University of York and then went onto complete the Chartered Institute of Marketing's Postgraduate Diploma in Marketing.  Annabel still lives in the area and divides her time between working from home and Botton Village, where the fundraising team is based.
Janine Moorcroft – Director of Care and Support
Janine joined the Trust in July 2018 as Deputy Operations Director and after a short period, the role was reviewed and re-named as Director of Care and Support. With a local authority background, Janine brought the knowledge and experience of managing a multifaceted provision for a range of people with support needs; in addition, Janine has brought the experience of working within a political environment and directly with commissioners.
Within the Trust, Janine takes the lead role in the quality and the General Managers of each community report into this role. The role of Director of Care and Support also has nominated individual status for the organisation in relation to our registered provision. Janine enjoys the variety of the role and the outcomes for the people we support which we embrace through our co-productive approach.