Congratulations Zoe, on successfully completing your AQA in Animal Care and Horticulture and becoming a member of the Garden Team at Ashfield Gardens.  
The course Zoe attended, was secured earlier this year by Stourbridge Community in partnership with the Worcester Council's European Social Fund and was a 6-week course in Animal Care and Horticulture for people we support.  
Several people took part in the course who undertook AQA training whilst on site at Ashfield Gardens and one of these people who attended was Zoe.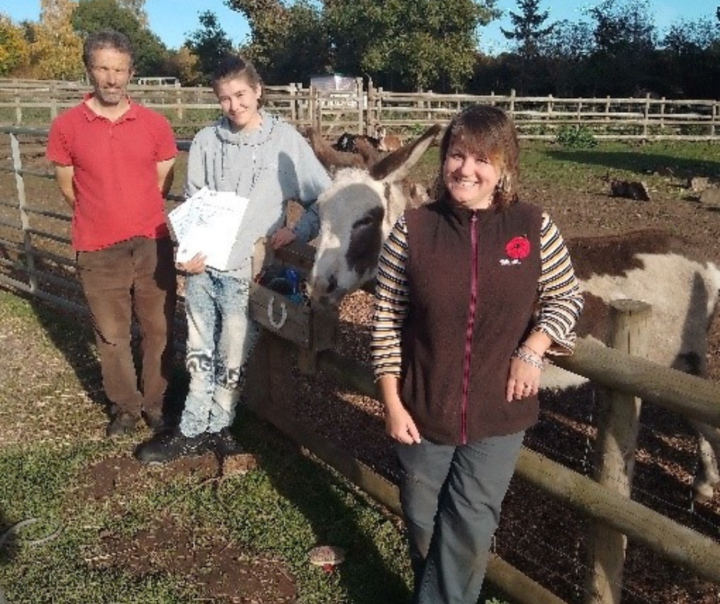 Zoe had been out of work for a number of years and lacked in confidence. She had already done an introduction in to animal care at another centre but was looking to gain further skills and to work outdoors. She also hoped to gain further employability skills.  
Whilst attending Ashfield Gardens on the AQA course, Zoe worked alongside the Animal Care Lead Keith to help look after the animals. She helped in maintaining animal enclosures, fed and changed water for the animals, ran animal care health checks and monitored for any diseases or parasites in the animals. Zoe also worked with Horticulture Lead Emma, to prepare vegetable beds and to maintain the land.
Becoming a member of the Garden Team.  
Garden Manager, Jenny recognised that Zoe lacked in self-esteem but had some excellent practical skills and felt that with the right kind of support in place, Zoe would make a good addition to the Garden Team.  
Zoe showed great commitment to the course, attending every session and went on to complete the course, achieving a number of certificates in independent work in Animal Care, Handling Animals and Animal Care Health.  
Following the course, Zoe asked if she could become a volunteer at Ashfield Gardens which was agreed. Since becoming a volunteer at the gardens, she has undertaken further courses in Social Care including the Rapid Introduction to Care, First Aid, and Safeguarding Adults and Children. She has also been very supportive to fellow volunteers and helpful to staff and people that are supported at the gardens to attend day placements.  
Zoe said 'Ashfield Gardens is a calming place to be. I like all the people here and we have a good time. I have learnt loads of new things and I would really like to work there more. It is good to talk to staff when I am feeling a bit down and have things going on at home and find the gardens a relaxing and safe place to be.' 
Jenny said 'We are really pleased with Zoe's progress whist she has been with us. She has demonstrated a keen willingness to her work, and we have seen her confidence go from strength to strength. We are grateful for the help that she gives to us, and she is well liked by all the people that attend the gardens. The animals love her too! We are really proud of her achievements.'