Fitness and weight loss were the goals when Sophie joined our Stourbridge badminton club but she's finding other benefits too. 
'We started the badminton club in February, and we play once a week on Wednesdays,' explains Sophie. 'My goal was to help with my diabetes and lose some weight.'  
I'm getting better the more I play
Sophie and the other club members are finding that badminton is a great way to build fitness. 'I struggled when I first started, but now that I've been there some time, I have started to get really good,' she says.   
As well as building fitness, the weekly badminton sessions have become an important part of Sophie's social life too.  
'What I enjoy most is seeing my friends and spending time with them and the staff. It's friendly – we  just play for fun, and we teach each other as we go.' 
Sophie has noticed that there are mental as well as physical health benefits too: 'Seeing my friends stops me feeling lonely – and badminton tires me out and helps me sleep.'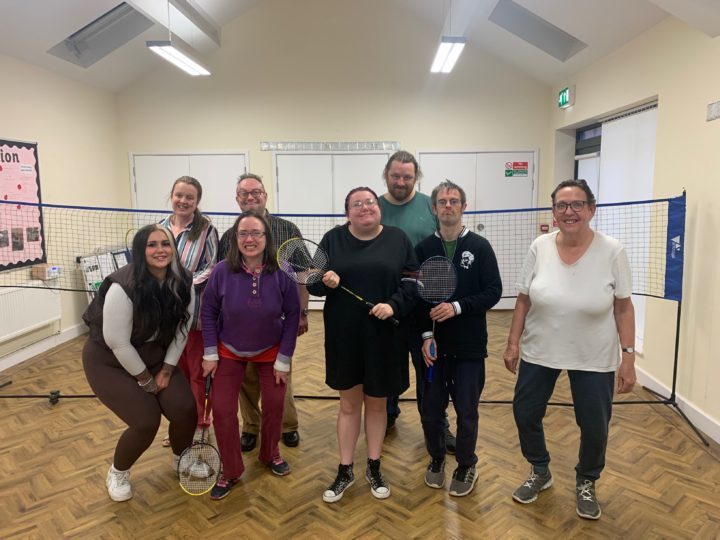 Breaking down the barriers
It's not always easy for people with disabilities to take part in sports. Support worker Chelsea knows that it's important to make sports accessible for everyone: 'Going to a sports centre with lots of strangers can be scary if you're not used to it – especially because we all lost the habit of going to new places over lockdown,' she says. 'That's why we run the badminton sessions in our own community hall – it's a familiar place, with familiar people.'  
This has made it easier for Sophie to get involved:  
'I do want to do more exercise, but I never really liked sport. I don't go to the gym or anything. But I've noticed that they do badminton at the Leisure Centre, so I may join one day, once I get more confident.'  
'We just keep the sessions very informal and go at the pace of the slowest,' continues Chelsea. 'Some people can play for a whole hour without stopping, while other people need to take regular breaks. But it's great seeing people gradually getting better every week!'