Charlotte is a Support Worker based at Croft Community in Malton, she also happens to be an extremely gifted ceramist. Over the weekend of the 5th and 6th March, Charlotte is taking part in The Great Charity Pot and Print Fair. It's an online event that gathers together some of the best names in the world of UK ceramists and printmakers to raise money for charities. 
Charlotte is running a prize draw for one of her unique hand-modelled ceramic dogs, with a runner up prize of an Owl & Pussy Cat, all decorated in slips and glazes. And she's donating all money raised to Camphill Village Trust! More details on how to enter here
We caught up with Charlotte to find out more about her role with the Trust, sharing her skills and how she got into ceramics.
---
Hi Charlotte, it's been great to hear about The Great Charity Pot and Print Fair, what a wonderful way to fundraise for us. How long have you been with the Trust?
I have been working with Camphill Village Trust since the end of February 2020, just before the first national lockdown, so around two years. I work a few days a week at Rowan house in Malton.
My varied role involves (amongst other things); supporting people with the making process of hand-dipped candles to sell in their shops, gardening, planning and cooking nutritious meals and assisting with medication and financial affairs. I find the hours I work fit well round my other work commitments as an artist, the balance is very important to me.
I was drawn to working with the Trust as I feel the ethos and values it upholds are very much in-line with that of my own views. It is a very unique place to work, with value placed on the individual and no two days are ever the same. I really enjoy the variety of the work and of course the people I work with. It is very fulfilling to see the difference you can make to peoples' lives by supporting them to feel value and purpose in what they do.
How did you get into ceramics?
My parents set up their own studio pottery before I was born so as long as I can remember I have had clay in my life. When we were little my siblings and I would play with clay while my parents worked. I used to make little figures sitting on sofas, which my mum would glaze and fire for me. Maybe it's because of this that I find myself being instinctively drawn back to working with clay.
I studied Contemporary Fine Art at university with a focus on sculptural practices. Following my degree, I worked with a good friend Bonnie Powell running an artist let studio group, operating out of temporary and pop-up spaces, with a yearly programme of collaborative shows in York. This was a great opportunity to meet amazing artists from all over the country and discover new inspiring work, alongside, making and exhibiting my own work when I could. However, the instability of working in and out of temporary studios took its toll and motivated me to apply for a more stable work setting, fast forward to 2015 when I applied for a studio at Crescent Arts in Scarborough where as luck would have it, I had access to a massive kiln right in my studio!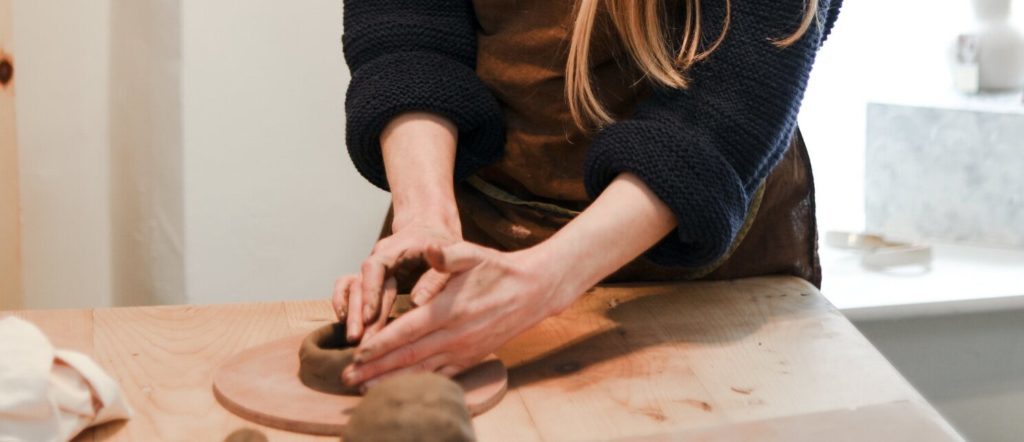 It was inevitable that I would start working with clay (again), there is a strong sense of the familiar, which enables me to be free, playful and experimental in my making. This is always something I encourage in the workshops I run (more info on my website). Clay is such a sensory material imbued with history. I love the chance elements involved and the contradictions which arise in my work that can be both painstakingly slow and precise yet impulsive and gestural.
I completed my PGCE in 2017 and later moved out of my Scarborough studio in 2020 and into a space at The Gallery in Malton, where I worked until recently. I'm mainly at home now in the spare room. But soon to move (again) into a space with AHH studio collective as I'm running out of space! Sorry this is getting long… you didn't ask for my life story…
What's your inspiration?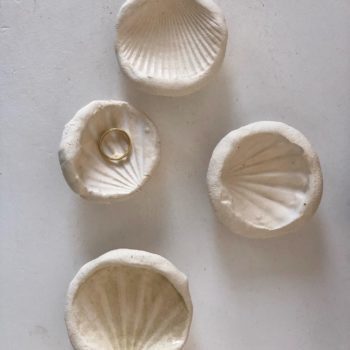 I draw on wide-ranging influences, from ancient ephemera to modernist design and my passion for collecting found fragments and object. I still find myself modelling animal characters alongside sculptural, or functional pieces. I form objects that seem to have been unearthed from old civilisations, or could have tumbled ashore, shaped by the pull of the elements. The joy is in the contextual associations, exploring memories, shaping and making in a meaningful way.
Do you ever share any of your skills with the people we support too?
I run ceramic workshops (currently from The Gallery). And I am exploring more options to offer working with clay to the people I support.
My view is that working with your hands can be highly therapeutic, whatever it is you are doing! I really believe working with clay can help with a sense of grounding and calming the mind. There is so much research out there that supports the use of clay as an effective treatment material in reducing anxiety, increasing mood, awakening creativity, furthering self-development, healing from trauma, and facilitating self-expression, all very important in these turbulent times.
I am passionate about the arts, education and the therapeutic values of creativity. I enjoy creating work that feels balanced; tactile and visceral, weighty yet fragile, employing techniques that are unique to the hand-building processes.
---
The Charity Prize Draw will close at 9pm on Wednesday 9th March. The winner will be picked at random by Charlotte on Friday 11th March 2022.