It's time to welcome new friends to our communities.
We've come a long way since Botton Village, our first community, opened its doors in 1955. At a time when adults with mental health conditions, learning or physical disabilities were often confined to long-stay secure hospitals, the Camphill movement blazed a trail, encouraging society to think differently about disability.
Seeing ability, not disability
By building shared communities based on meaningful activities, the founders of Camphill Village Trust enabled people with disabilities to reach their true potential. And today, 65 years later, the values that inspired our predecessors still shine through everything we do.
Celebrating 65 years with a fresh commitment
We know that outside our communities, life can still be a challenge. Nationally, two thirds of adults with learning disabilities live with family – and 75% of these have been carers for more than 20 years. People with learning disabilities are far more likely to feel lonely some or all of the time than the general population, and only 6% are in paid employment.
We've come a long way since 1955. But there are many more people who need our support, and Covid-19 has only added to the challenges they face.
We're looking to the future without losing sight of the past…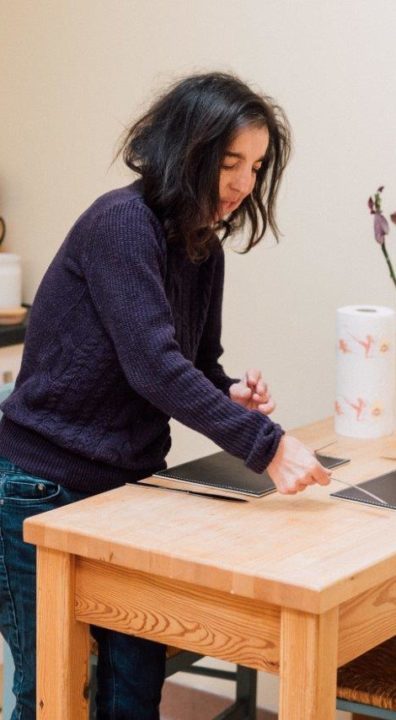 Our shared houses have always been the backbone of our communities. But a house-share arrangement doesn't suit everyone. Some of the people we support can experience 'sensory overload' – particularly if they are autistic – and need to take time out in peaceful surroundings. This can make life difficult if other housemates enjoy chatting, playing music or watching TV.
Liz lives in a self-contained flat at Delrow Community in Watford. 'For me, the best thing about having my own flat is being able to wind down and switch off. If I get too overwhelmed, I can't wind down easily,' she says.
We believe that people with learning and other disabilities should be able to choose the kind of housing that suits them best. This may be living in a shared house, or in an independent flat within one of our communities. And for some people, it may mean living elsewhere, but joining us for workshops and day opportunities.
Every person we support has unique needs – so we need to offer real choice and flexible support.  Semi-independent living suits many people supported by the Trust.
More choice at Delrow Community
'At the moment we have a small number of individual flats here at Delrow Community,' explains Phil, Delrow's General Manager. 'They are ideal for some people, just as sharing a house with friends is ideal for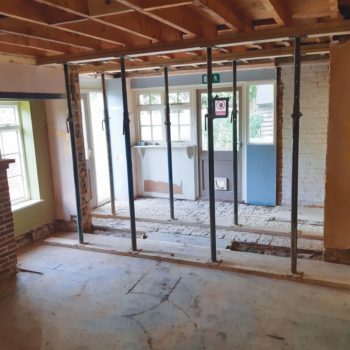 others. We're planning to build more independent flats so that we can give everyone the support they need.'
Work is already underway to convert Little Delrow, a shared house just outside the main site, into five flats. We're also planning to demolish an unused building in the grounds to create 10 more self-contained flats.
The new flats will be close to the rest of the buildings at Delrow – an easy walk to the café, the workshops and the new social farm – where there are always friends to meet and activities to join in.
---
• Minimal visual impact
• Well designed in sustainable materials
• South east facing to maximise the sun
• Timber structure and fully recyclable copper roof
---
And across all our communities…
We are developing plans to grow all our communities, taking into account local needs and opportunities. Thanks to the generosity of our supporters, work is underway to create six new flats in Stourbridge. We hope that it won't be long before we can add new accomodation for Croft Community, Larchfield Community and Grange Village.
Demand is always high for our existing self-contained flats in Stourbridge, which we were able to build a few years ago, following a fundraising appeal.
Community workshops and facilities mean that no-one is alone unless they want to be.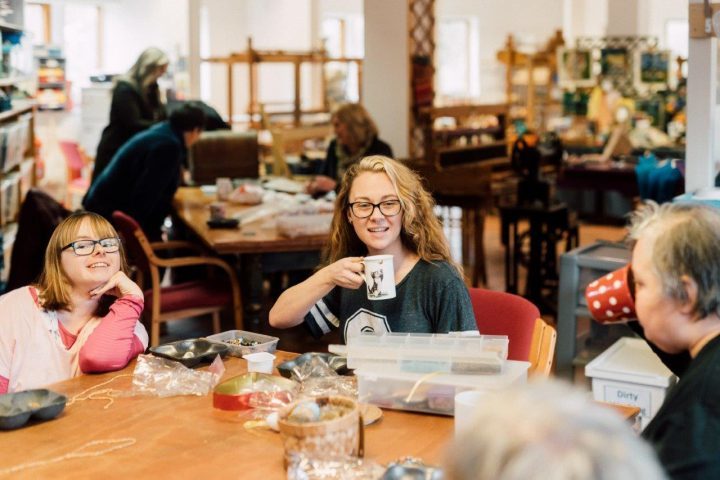 Welcoming more people to our day opportunities
A place to feel at home is vital. But so is a life of activity, purpose and opportunity. That's why our plans to grow include workshops, social farms, shops and cafés where people can join us for day opportunities.
Here too, the generosity of our supporters has a vital part to play – thanks to you, in recent years we've extended our St Albans Art Studio and the Craft Workshop at Larchfield Community so that they can support more people.
We were about to launch an ambitious new plan to increase the numbers of people who join us for day opportunities, when Covid-19 plunged most of society into lockdown earlier this year. The temporary closure of our workshops has emphasised how much people with learning disabilities depend on supported day activities.
New places to learn, challenge ourselves and grow
Our priority right now is to make sure all our workshops, farms and social enterprises can offer Covid-secure activities – for example by having smaller household 'bubbles'. But at the same time, we're making plans for the longer term. By developing new services, we can reach out to the many more people with disabilities who have felt lonely or cut off during the pandemic.
In Middlesbrough, we're working in partnership with the Mayor to develop our first ever city farm. With accessible raised beds, beehives, hens and polytunnels, this will be a resource for Larchfield Community members and people across the city who need our support.
Meanwhile, in Pickering, we're developing a community allotment. Six people per day, who are not currently supported by Camphill Village Trust. will be able to enjoy working in the fresh air, raising fruit and vegetables from seed, and making new friends.
Building on the achievements of the last 65 years
Work has already begun on the new flats in our Delrow Community. Other projects will follow when funding is secured. It will take some time for our plans to come to fruition and we may need to stay flexible. But what won't change is our commitment to welcoming more people to the Camphill Village Trust family.
With the help of our supporters, many more people with learning disabilities will soon be able to enjoy a life of opportunity.