Think you know social care? Think again. Let us introduce you to Julie and Danielle. Julie has been a resident at Botton Village for over 40 years. Danielle has been a Support Worker for 4 years and has supported Julie for the past 3 years.
Julie attends the Inner Garden workshop. She also helps out a lot around the house and she enjoys doing the dishes, hoovering and is the 'boss' of the house.
When you meet Danielle and Julie, ​you can't help but notice how strong their relationship is. They finish each other's sentences, ​they tell each other jokes,  they talk about going on road trips and singing at the top of their voices in the car.  They even went out and bought matching handbags, which they take with them on all of their trips and days out.
Getting 'out and about'
Throughout their time together, Danielle has supported Julie to fulfil her wishes from attending a family wedding in London, where they stayed in a 'posh hotel in Chelsea with free soap in the bathroom and a shoeshine!'. They've also to spent a week at Butlins in Bognor Regis where they danced every night to tribute acts. 'Julie's a great dancer, she loves dancing to lots of different types of music from Elvis to Rita Ora!' says Danielle.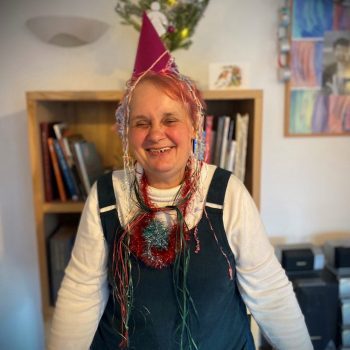 Danielle has supported Julie to express her own individuality when it comes to clothes. 'I like to get dressed up and have just bought a really posh new dress with sequins on' says Julie. Even down to colouring her hair a vibrant pink. 'I really like my hair, I go to the hairdressers to get it cut, but Danielle helps me to put the colour on it and comb it through. I really like the pink, I even thought about getting my hair coloured blue, but it was a bit bright.'
Julie is a huge Dua Lipa fan ​and had previously expressed that she would love to see her play in concert. Danielle managed to bag some tickets on the day they were released, however, when they arrived at the venue in Manchester, the area where they were seated was over-crowded and noisy, which Julie wasn't comfortable with.  Danielle spoke to someone at the venue, and a short time later they were presented with two brand new tickets – front row seats!
'I loved going to see Dua Lipa, she's my favourite singer. Although I've not met her, she seems to be a positive, tolerant person. The lights were a bit bright though, I had to borrow Danielle's sunglasses!'
Downtime
It's not all holidays and days out for Julie and Danielle. At home, Julie loves nothing more than catching up on the soaps. Julie is a big fan of Danny Dyer on Eastenders. She also enjoys watching the 'handsome men' on an episode of Love Island.
'I've fond memories of visiting Scotland as a child, we used to visit a place which had cable cars. Danielle has spoken to my sister and we're arranging a holiday in 2020. We're going to go to Edinburgh and some other places too. I can't wait!' exclaims Julie.