West Ham fan Geoffrey lives at Botton Village. He's writing a blog to keep us up to date with the things he's been busy with and the way he's feeling during the lockdown period.
27th March 2020
I live in Botton in my own room with a kitchen and bathroom I share with my neighbour and friend.  I feel very fortunate and lucky to live in such a beautiful place and this week have had to change everything in my life.
I have spent all this week in my home and generally outside in the courtyard.  This was a shock to me at the time as I could not go to other houses too have my lunch but mostly I could not go and see my partner.
I understand that this is to protect me and am now very much on board with the measures.  I am now prepared to isolate for as long as it takes so that I can protect people and myself from this virus.  I hope other people also do the same so that my efforts are not a waste of time.
I can say that I have had fantastic support from staff providing me with my meals, going shopping for me and lots more and checking on me all the time.  One member of staff, my keyworker, has given me lots to do from purchasing wool for my knitting, being nice to me and listening to me and also getting me colouring books to do which I have put on my window.
I really miss my partner but know that me staying away will keep her safe.
---
3rd April 2020
I am very proud of myself as I have self-isolated for over 2 weeks now.  My keyworkers still cook and bring over my food for me and ring me 2 times a day to see how I am.  They have also been doing my shopping for me too.  I have expensive tastes and have not been able to go to my favourite pub and KFC but I have lost some weight and feel alright.
Nicola who is the boss at our Village Store gave me permission to do a shop in there.  I had to go at a quiet time as the shop cannot let people in at the moment because of this virus and we had to keep away from each other.  I loved going there as I met a couple of people and also got out of my house.  I can now do this every Friday.
I have been using my new iPad and Colin my manager tried to fix my radio but he is not Carl but tried his best.  I listen to my favourite music usually heavy rock and my neighbour is also self-isolating so we are doing it together.
---
14th April 2020
I have been in my flat for over 4 weeks now.  It is a bit of a trial and cannot wait to get back to normal and see all my friends especially in the coffee bar.  I did have a phone call with Pat, my girlfriend, over the Easter weekend and also saw her face on my Ipad using facetime or zoom can't remember which one I used.  She was very pleased to hear from me.   Thank you  Linden House for doing this for me.
I also had lots of easter eggs sent to my house from people which really cheered me up especially from people at New Botton Farm who also made a really lovely Easter Sunday dinner for me.  Paul a support worker in Botton also gave me some Easter chocolate.
I heard that Peter Bonnetti the ex Chelsea keeper and my friend Tim Brook Taylor from the goodies have passed away which makes me sad even though I am a West Ham fan.
I have been knitting a jumper for my friend Michele which will be ready after the lockdown and have planned to make Colin a jumper in his favourite team colours.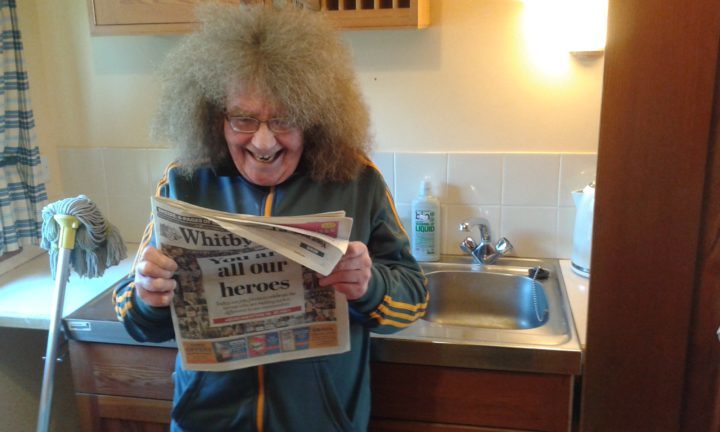 I would also like to send a message to all my carers that you are all heroes as it says in my paper and please can every one stick to the rule of cleaning all the time, keeping 2 metres away and helping to keep this horrible disease away from us oldies.  Hope you like my new medicines cabinet that Barnsdales put up for me.
Love Geoffers xx
---
21st April 2020
I am now getting used to this lockdown.
This week I have been getting some support on how to get the best out of my new iPad.  I have been watching lots of episodes of Waterloo Road, Colin's wife used to go to school with Mark Benton who is in this and there are two from Eastenders and Corry in it.  I think its called binge-watching but I love it.  I have also taken a photo of me with my iPad doing something that looks like it is in the future.  This was a laugh and made me laugh out loud!!!
I have also been in touch with my partner on zoom and she is fine and we are both looking forward to seeing each other again in human form.  I will take her out for a steak.  I used to go on the train to Whitby with her and have a day out and would love to do this again if she feels up to it.
My message this week is the think of all the NHS staff who have lost their lives saving others.    They are real heroes and so are my support workers at Botton as they made me a beautiful Sunday lunch and Julie made a treacle pudding which was delicious.
I also watched the rolling stones and my friend Mick singing on zoom, well they were using zoom and it was on the telly.  Rock and Roll.
Most of the time though the weather has been great and I have been in the garden next to my house.
See you next week  Geoffers xxxx
---
27th April 2020
Hello from Geoffers
It has been sunny all week again in Botton and the lockdown continues.  Boris is back at work and I hope he has some good news from us and I have been isolating for 5 weeks now and hopefully my actions and others have stopped people getting it.
It is also great news from the telly that my staff can get tested if they need it and have the symptoms.
I have taken a photo of one of my flower boxes.  I planted the seeds last year and they are now looking great.
I would also like to thank my workers for getting me lots of donated wool that I can use to carry on my knitting.  I have all the colours needed for Colin's jumper that I have said I will make him.
Keep smiling, just like Mickey on my t-shirt as we are all doing our bit.
Love Gxxxx
---
7th May 2020
I've decided to write my story, I hope you enjoy it.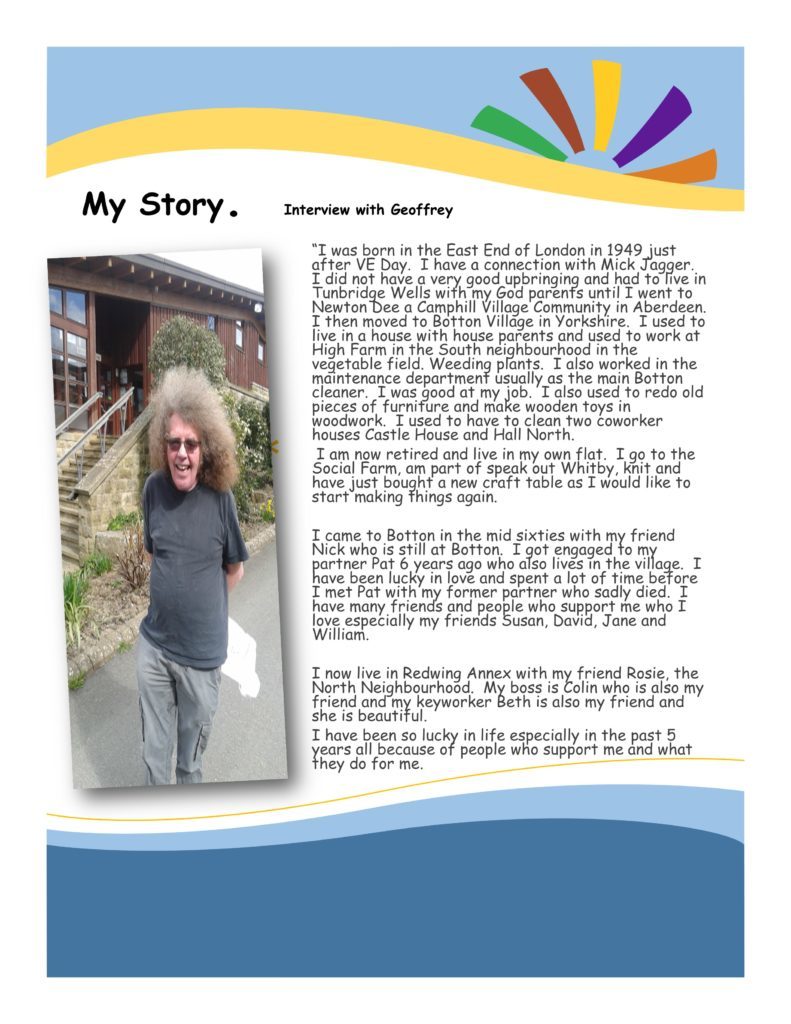 ---
12th May 2020
You never guess.  I am thinking of proposing to my partner after being engaged for over 2 years now.   Being a modern man I do not want to live with her as I am perfectly happy where I am and I will only get on Pat's nerves if we were together all the time but I do love her and once this isolation is over I will invite people to have a party with us to celebrate if I decide to ask her.
Here's a photo of all my amazon boxes that had all my crafts in.  This was really welcome as I was starting to get really bored.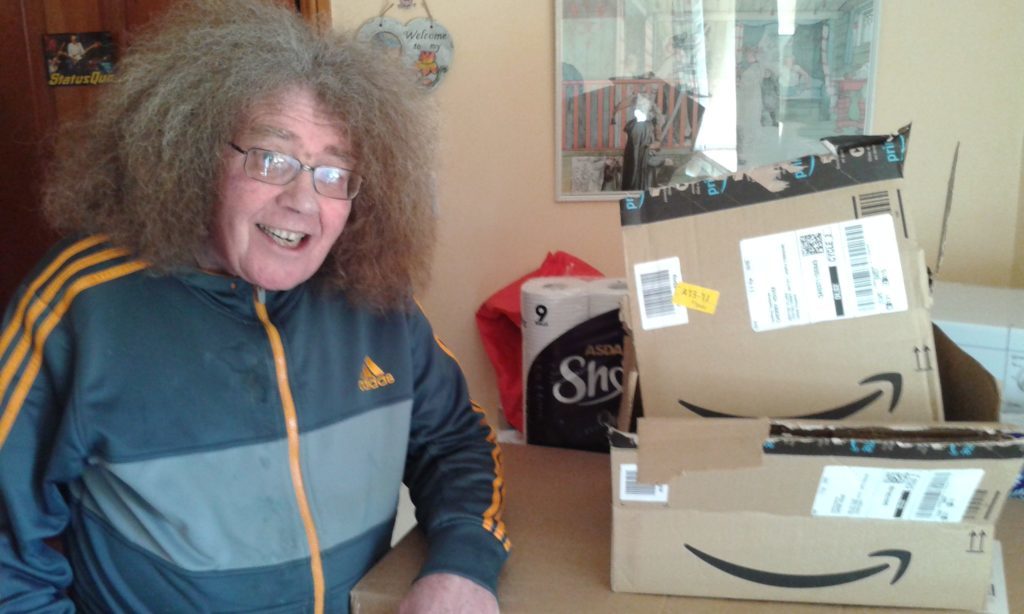 I have done Michele's front and back of her jumper I am knitting for her and hope to finish this off by my party so she can wear it.  Not sure if I will finish Colin's as he is a big man and I will need lot's of wool…Only joking…
We even have to get our own metre readings too at the moment which is a pain in the you know what!!!!  I thought Boris's speech was a bit weird and confusing.  I am now really missing Pat and really hope that I can still go to Berlin in November to watch Status Quo.  I don't mind isolating for 2 weeks after as I have just done 8 weeks!!!  Shows how much of a fan I am…
Wish me luck if I do decide to propose and I can now at least sit on a park bench…