Martin lives at Botton Village. He has decided to start a blog to keep us up to date with the things he has been busy with during the lockdown imposed to keep us safe from coronavirus.
31st March 2020
We have been in our shared house for a week now and have had to go back to basics with everything including no work.
I have now had my TV set up in my room and am very busy cooking and learning new skills.  I have been doing craftwork, watching DVDs and doing jigsaw puzzles.  I have also enjoyed the rest from my farm and tools work and being together.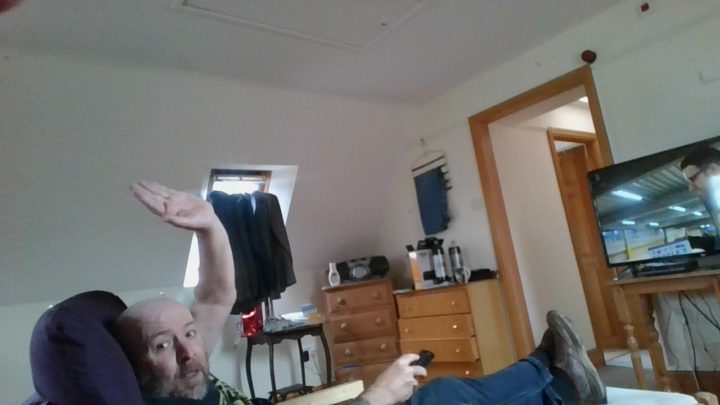 We are both planning for the next few months if it goes on longer.  We are planning to build an aviary in the garden of our house if the great weather continues to get the sun loungers out and the bbq.
What we do not like is that we cannot plan any outings, shopping and we have to be careful as we are not exercising enough. at the moment.
---
4th April 2020
This week I have been working in my new tool shed getting it ready for the house to have a place where we can build our new aviary.  We have agreed to start this in 2 weeks as I am converting an old wooden table into a chair first and the shed also needs the electricity back on.
I have taken a photo of where the aviary will be as it will be next to some windows in our conservatory for people to see the birds once we have built it.  We are thinking of getting some budgies and my friend would like a chicken shed in his house.
We have also started making bird feeding boxes out of plastic bottles and Julie my keyworker has got me some pens to make them all colourful.  We have also got a bird watching challenge from Jemma that we will start using once the bird boxes are done.
The only problem is we only have a black and white printer so we have asked other people to print the copies off for me.
I hope you like the pictures of my shed and workshop I did all the cleaning and tidying up myself.
I would like to add that I miss my work at the farm and know why it has closed but have asked if I can at least do some wood stacking keep me going, Robin at the farm is looking at this for me.
In the meantime to fill the days and to keep me healthy, I have been doing lots of colouring-in and crafts with Julie.  This makes me very happy and I love my new house and the people I live with.  I have been told that we are getting a new tablet and can go on Zoom or something and when this happens I would like to show people how to make my bird boxes.
Next week we are getting all the wood for my aviary, Julie will be getting me some crafts and things and I am hoping to get Netflix on my new tv and to set up my own bank account.
---
12th April 2020
So what have I been up to this week whilst in lockdown, sounds like I am in Prison.  In fact, I am starting to like this better than before as I am doing loads and loads even if it is just in Cherry House.
I live in a shared house with 3 other people with support staff who support me on some things although I want to be independent and have my own house eventually.  I think I could do this in say a year or so once I have got some more skills.
One person who lives in my house has a mum who has kindly donated some garden furniture that we can all use.  This is because they cannot go on holiday at Easter and instead thought of us.  I have been helping assemble the table, chairs and swing although we had to get a professional in to do most of the work. As you can see from my pictures it was really big and took all day to assemble.  It looks really good on our patio now and I can now go bird watching outside.
I hope you like our new bird boxes too.  Julie my keyworker helped me to make a seat cushion which I have nearly finished but I broke the tool used to make the pom poms so Julie has helped me to buy another one from Ebay, which I am waiting for.  Hopefully, this won't take too long to deliver but you never know with this terrible virus.
I have also been delivering easter eggs to my friends and have made an easter egg model for a competition they are having at another house in Linden this Sunday.  It is a shark.
Finally, I have been looking at designs for my new Aviary with Angela my other support worker and we first looked around our woodwork shop for anything that we may be able to use but Alan the tree chopper said that he would help with making a bird table for our patio and getting wood but the cage we found was for his work transporting trees so we could not have.
Alan also advised us not to put the aviary next to my tool shed as my budgies need some shade.  When I get my budgies I am going to call the first 2 Bill and Ben, then call the others after my keyworkers, Julie, Colin, Angela, Beth and Clare, Hope they don't mind?
I decided to look at bird aviary kits for sale on the internet and decided to buy a new kit as the second-hand ones on sale were very expensive or rubbish.  Colin our team leader said that he will help me to order it and pay for it on Tuesday when the office in Botton is open after Easter.
I have saved the money up as I was going to get a tattoo with Beth my other support worker but the shop is closed because of the coronavirus and I have decided to use the money for my new aviary which will look good next to our new swing.  Julie also said that she will help me to get some plant pots too.  Its work in progress.
---
20th April 2020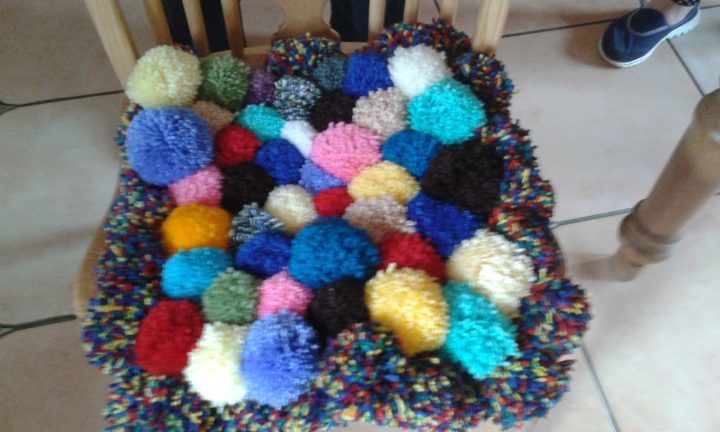 The first thing I achieved this week was to finish my seat cushion.  This is the first time I have ever made something from wool and I would like to make more.  The cushion is for my chair in my front room so I can watch my tv in comfort.  Thanks Julie.
On Tuesday after Easter and after I had eaten all my Easter Eggs, I went on Amazon and chose my aviary.  Colin then went to the Office and bought it for me.  It is amazing but it came on Thursday in two boxes and in a flat pack.  Jonathon who is volunteering at the store told me that it had come.  Colin went and picked up the flat pack which was really heavy.  We decided to assemble it on Friday and asked for help from staff and volunteers which Julie my keyworker arranged.
I have a folded workbench, a drill and a screwdriver which I needed and I have them in an old shed for now as the shed I have has a leaky roof and needs fixing.  It took a while and we put some of the parts on the wrong way but now we have an aviary in Cherry House to go with our new garden furniture.  Julie also found a parasol in my shed which is now part of the garden.
We are not sure if we are going to put budgies in or look at other birds such as finches as we are worried it might be too cold in the winter for them even with a house for them.  Colin suggested chipmunks which is a daft idea as I wanted birds.
We are going to ask a member of staff when he is on shift at a neighbouring house who has aviaries at home if it is ok to have budgies, then we will get the rest of the items we need before getting the birds.  Apparently as long as the budgies have been bred outside then they are ok.  I can't wait to get my first 2 budgies "Bill and Ben".
Finally, Julie set up Zoom for me and others in my house to join in a quiz on Saturday.  Carl from Hall South did a great job and I think we only came 7th out of 10 teams but it was great fun.  I think Hall South won and I think Colin cheated?
See you all next week,
love Martin " House Martin".
---
25th April 2020
It's been good this week. I've kept myself busy.
I've made a bird box for our garden, Kevin from the woodwork workshop kindly gave me it. It was easy to put together, it slotted together. Angela my support worker helped me to work out which bits went together.
I've made more pom poms. I'm getting very quick at them now. I've also decorated some bunting for the 65th celebration of Botton Village. I've ordered some clippers for staff to do my hair as it's getting very long. I'm enjoying the nice weather too!
---
4th May 2020
Today Sunday I lit a candle for my friend D who passed away in my old house a year ago.  She was a really lovely lady and I miss her a lot.  We all had a prayer in Cherry on the time she passed away as 3 of us living in Cherry used to live with her until we got more independent.  Sarah my friend made the candle holders last year for D so it was fitting to use them again.
The staff in my house have to start wearing face masks and I thought I would help them if they ran out of stock.  Hope you like my face mask.
This week I have just finished a giant jigsaw with my friend Fed and have been playing Jenga and giant snakes and ladders with Sarah.  I have also been talking to Colin about the place I was born in Scunthorpe and will write up a life history next week.
---
12th May 2020
We have decided on buying two budgies next week as the weather was really bad this week.  We only need to buy a home for the budgies to live like a bird box but with a bigger door and some seeds and toys now.  I have made a ladder using beads and twigs for them to play with.  We hav also decided to get a wind break to protect them in the bad weather and a ground sheet for all the poo….
My bird feeder for the wilder birds is now in my garden to go with my bird boxes I made last month.  The birds love this table as they can get food when ever they want just like me…
I have also been learning lot's of skills on how to prepare meals and I successfully cooked for all the house last week.  The meal was delicious and Julie my keyworker is helping me to prepare the meal for tomorrow.  Shepherds pie…..
Finally I hope you like our VE day pics…..  The cakes were really nice and we had a chance to sit on our new garden table and chairs watching the world go by in Botton…
Finally please see my photo of me in my room tidying up hahaha