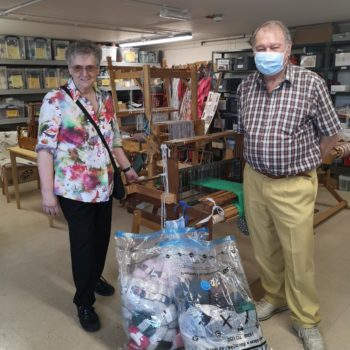 Phillip and his wife Mo had never heard of Camphill Village Trust or our beautiful community, Botton Village, nestled in the North York Moors. That was until a local walking group made his holiday 'to do' list.
'I discovered Botton Village on a walk. I was out with a walking group from Castleton while on holiday in Yorkshire, and I ended up walking right through the village.' Philip said.
And that was the beginning of Philip and Mo's love affair with Botton Village. 'That walk sparked my interest in the community. It is just such a lovely place.'
That was over 20 years ago! And since then Botton Village has very much been in their thoughts and they try to visit whenever they can.
A great way they have found to continue supporting the village is through their local sowing group. Mo has been a member of the Burghley Crafters for six years and in recent years was asked to oversee the charity work that the group does.
I run the charity side of the group. what we make and what we give out. One day I recommended supporting Botton Village, I thought it's such a worthwhile cause and we have seen it grow over the years to where it is now. We want to see the village do well.
Mo's and Philip first visited Botton Village last year on behalf of the Burghley Crafters and donated quilts and yarn but were disheartened to see lockdown's effects on the community.
Mo said, 'We donated last year and it was different due to Covid, but now visiting this year you can see it all coming together, it's thriving and the gardens looks wonderful!'
On their visit to Botton Village this summer, Mo and Philip first visited Botton Village Store, where they donated 35 quilts, they had brought, to be sold to raise funds for the Trust.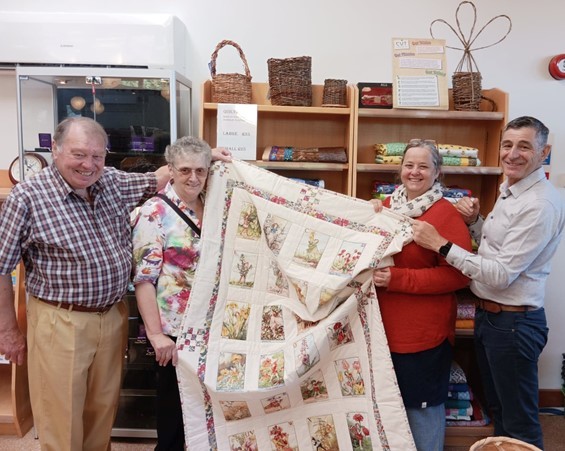 They were then treated to a tour of the Woodlands Studio and The Creative Studio by Craft Workshop Lead Sarah, where they donated the three bags of yarn to be used by the people we support in day opportunities.
While visiting The Creative Studio, Mo and Philip were impressed with a Willow Woven Bird House, skilfully created by community member Katie. They were so in love with it they decided to buy it and take it home with them.
'I am so proud that Mo bought my Willow Woven Bird House, I am proud as punch!' said Katie.
After touring the village Mo and Philip had dinner at the recently reopened Botton Village Café, where they enjoyed a pasty and salad lunch.
Mo said 'I love Botton Village, it is such a special place. Me and Philip want to see it do well, and for everyone to know about it. Everyone should visit Botton Village one day, it is wonderful, we both love it!'
Sarah said, 'It was lovely to meet Mo and Philip again yesterday and we wish to thank them for the wonderful quilts and bags full of yarn!'
Thank you for your kind donations, Mo and Phil and we hope you enjoyed your visit and meeting some of the wonderfully creative and talented people who live and visit the community. We hope to see you again in the near future.
We are so grateful to supporters like Mo and Philip, who not only donate their time and beautiful crafts but spread awareness of the Trust and what we do here to support adults with learning disabilities to lead a life of opportunity. If you would like to donate, in any way, or you would like to start your own fundraising activity for us please click here.