This year Humber and North Yorkshire Health and Care Partnership invited providers to take part in the Post Covid Inter Care Home and Supported Living Summer Olympics. 
All those who entered picked a day to take part, between 13 June and the 24th of July. Botton Village's self-advocates 'The Botton Braves' decided July 3rd would be the date and organised the Summer Fete for then.  
At the Botton Village Summer Fete, the group selected games to compete in from the events list provided and competed against other providers across York and North Yorkshire.
The events selected were 'steps taken in a day', chair basketball, hoopla, toss the beanbag and discus throwing.  
Colin Buck, Regional Connector Co Production Lead, said 'I was really proud of the achievements of people on the day, the work put in by people we support in organising the day, taking part and helping with promoting things.
'The event really promoted health and wellbeing with some amazing results. It has helped people get out of the covid bubble and start looking at their own health and wellbeing.'  
Out of the 15 teams that entered 'The Botton Braves' achieved third place, been awarded a bronze medal and certificate for their achievements. We met up with the group at their celebration event on October 12th and this is what they said. 
'The Botton Braves'
Dan said 'What a day we had. It was so much fun, and we were all very tired afterwards from all the things we did. I am going to show my mam my medal she will be really proud of me.'  
'I used to play volleyball and have been training with Karl our old team leader, so have got really fit. You can see why I won a medal and helped my team win the bronze award. It was great,' said Luke. 
Simon said, 'I have been practicing my steps using my phone with others before the event and cannot believe I walked so many steps on the day, and we won the bronze trophy.'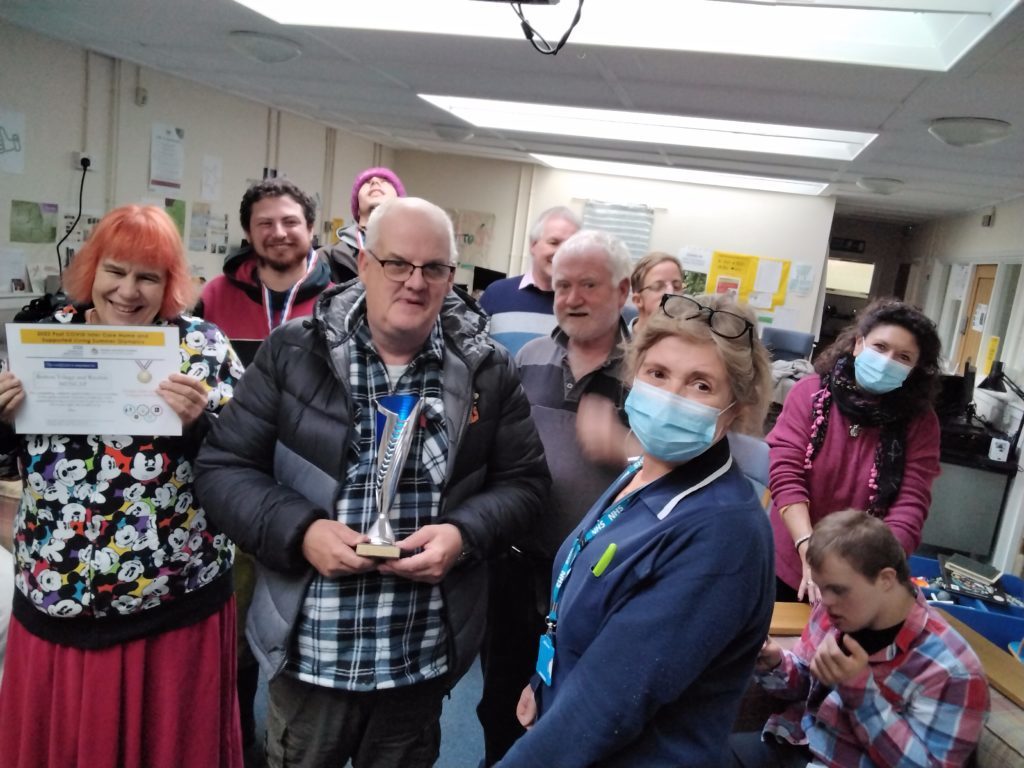 The aim of the event was to be a fun way to support community members in getting active, promoting their health and wellbeing, whilst also providing them with a chance to compete against fellow providers for an Olympic trophy.   
Maureen, Project Nurse at Humberside and North Yorkshire Health and Care Partnership, said 'It was lovely meeting everyone to give people some well-earned medals and the bronze trophy and what a fantastic setting Botton Village is for the awards' 
Well done to everyone who took part. You can learn more about our self-advocates across the Trust by visiting our Co-production page: https://bit.ly/3Mz2X7q