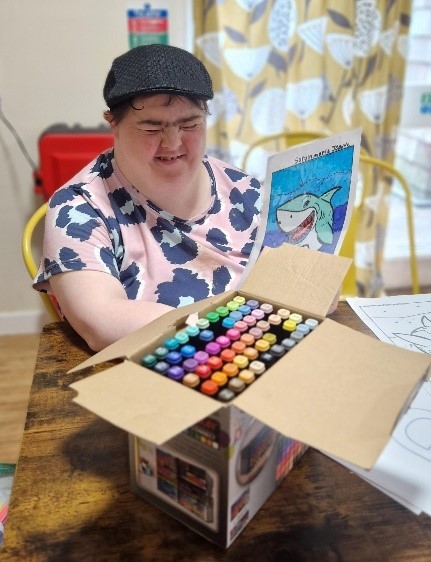 At Ashfield House within the Stourbridge community, a brilliant new initiative has taken root, encouraging our community members to explore new horizons by celebrating various national days. The journey began with National Shark Day on July 14th.
Our community members' excitement reached new heights as Nic, our Care and Support Manager, presented them with a range of activities to choose from for Shark Day. The days leading up to the event were filled with creative camaraderie as our supported individuals delved into colouring pictures to adorn the Shark Day board in the dining room. With heads bent in concentration, sharing felt-tip pens, and showering compliments on each other's work, the experience was immensely enjoyable.
Peter, one of our community members, expressed his enthusiasm during his lunch break, saying, "I'm really enjoying it, yeah! I'm getting back to my picture now." Their collective creations adorned the walls and spaces of Ashfield House, showcasing their abundant creative talents.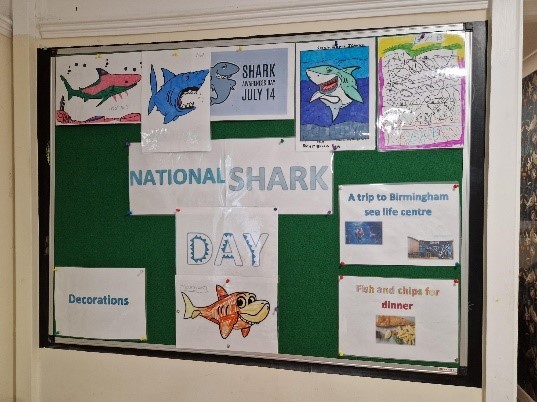 The very ambiance of Ashfield House transformed into a sea of shark-themed deco, with our staff members joining the celebration by donning shades of blue. Our community members revelled in the sounds of Shark-themed music and indulged in watching fascinating Shark videos on YouTube.
For an added touch of adventure, a group decided to take it a step further and journeyed to the Sea Life Centre for an afternoon of learning about different sea creatures. They even got temporary shark tattoos and wrapped up the outing with a delightful fish and chips dinner.