Alice is one of the people we support in our Delrow community. She has been part of the Trust family for four years now, regularly attending music sessions and benefitting from our beautiful, tranquil outdoor spaces.
Alice has a visual impairment, communicates non-verbally and uses a wheelchair, but her loved ones have seen the difference being able to access opportunities has made for
Alice.
The

opportunity

to

attend

regular

music

sessions

, which allow people to express emotions through rhythm, tone, and volume,

has

resulted in real improvement in Alice's wellbeing and confidence too.
Will you help give more people like Alice a chance of a life of opportunity?
"When Alice was stuck at home it was clear she was bored and frustrated. From being someone who didn't enjoy socialising,
that's now what Alice enjoys the most!"
Alice's mum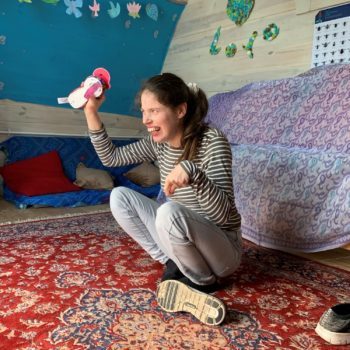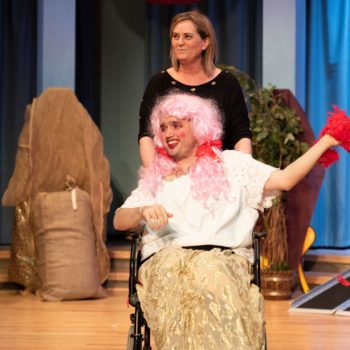 Your gift could help someone like Eddie
develop their confidence and skills
through performing arts.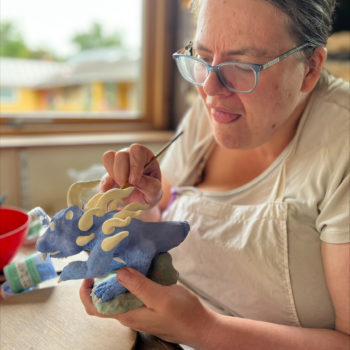 Your gift could help someone like Natalie
unlock their creativity and
find the confidenceto flourish.
Living a life of opportunity
Life can be challenging for people with learning disabilities, autism, or mental health problems. For some people, it's the loneliness that comes from not being able to meet friends. For others, it's the frustration of not being able to explain your wishes, or the boredom that results from limited opportunities to work or learn new skills. Often, a lack of funding and suitable support can turn these challenges into even bigger problems. 
Day opportunities at all our Camphill Village Trust communities provide a wealth of therapeutic creative and outdoor opportunities – from arts, crafts, and pottery to performing arts, gardening and animal care.  
Please will you consider giving a gift today, so that people with learning disabilities will have the opportunity to make a positive change in their own lives. We all know that a 'one size fits all' approach simply doesn't work, which is why co-production is at the heart of everything we do, supporting people to take the lead in planning and designing the activities we offer.  
Register to our Family Life newsletter to stay up to date with news around our communities.